Stephen Hoare - GCSE & A-Level Chemistry & Biology Tutor Bingham, Nottingham, West Bridgford & Loughborough, Leicestershire & Lincolnshire
Subjects
GCSE Biology
A Level Biology
AS Level Biology
GCSE Chemistry
A Level Chemistry
AS Level Chemistry
Areas Covered
---
Subjects:
A level Biology for AQA, OCR and Edexcel
A level Chemistry for AQA, OCR (including Salters) and Edexcel
---
Price and Range:
£40 per hour (including online); lessons are generally one hour, although 30 minute lessons or one hour lessons alternate weeks can be arranged, subject to availability.
---
Personal Information:
I am an experience tutor, author of textbooks and workbooks as well as A level Biology exam papers. I am an A level examiner for Chemistry and Biology . This enables me to show students how best to approach questions, give them an insight into what examiners are looking for and help them present their knowledge to their best advantage. I concentrate on getting my students to be clear and precise in their work because examiners do not reward answers that are nearly right!

I am also able to use my understanding of different approaches to learning to tailor my teaching to individual students' needs - not something that can always be done easily in a classroom setting. Ensuring a sound grasp of basic concepts is central to how I tutor.

I have tutored AQA, Edexcel and OCR Biology and Chemistry (including Salters). I have a BA Biochemistry (Oxon) and DPhil (Oxon) in Peptide Chemistry. I am a Fellow of the Royal Society of Chemistry and a Chartered Chemist (CChem, FRSC).

It is important for students to get the grades they need, but Chemistry and Biology are fascinating and absorbing subjects that are highly relevant in the modern world. I have worked for over 30 years in the life sciences industry and this has given me a wide experience of real-life applications of both subjects that I bring to my tutoring - it also makes lessons more varied and interesting for the student. I try to avoid time-wasting during lessons, but I also like to be informal and make the subject enjoyable and approachable. See my Facebook page for reviews by former students.

Please note that I only teach from home or online - I do not visit students' homes, sorry.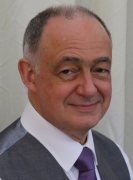 Dr Stephen Hoare
Listing type: Tutor

Availability:
All days day and eve
Crb check:
I have a Crb Check [Help]
This map is centred on (NG13) where this tutor/or organisation are located.
Contact Details for Dr Stephen Hoare
---
Send Dr Stephen Hoare a private message
Do not use this form to try to recruit tutors to any tutoring agency you may run or for sending communications that can be seen as spam, marketing and product promotion etc.
Optional - leave blank if you do not want tutors to contact you by phone. Numbers only please. No ( ) or -