Samantha Buades - French Tutor Hebden Bridge, Halifax, Calderdale, Sowerby Bridge & Todmorden
Subjects
Up to Post graduate level French
---
Subjects:
I am a qualified and experienced native French teacher. I provide a relaxed atmosphere which allows students to ask questions and I tailor lessons to what students require. I respect each studentsí pace of work and way of learning.
---
Price and Range:
£25 an hour

I am happy to travel to your place (for an additional £5) if you live near public transport as I do not have a car.
---
Personal Information:
Bonjour! My name is Samantha and I am from Bordeaux, a region famous for its wine. I am a qualified and experienced teacher. I have been living in the UK for many years and, after working in different roles in the educational system, I decided to undertake a French teaching qualification. The course was really stimulating and learning about pedagogy was particularly interesting. I have enjoyed teaching ever since.
I have experience of teaching on a one to one basis as well as small groups. I am very familiar with the curriculum for French GCSE and A Level. I also teach University students who have French as a major or as a minor subject.
I have experience teaching general French and French for tourism to adults together with French culture, which is crucial when learning a language.
During my lessons, I use different materials such as videos, images, magazines, films, music and the latest course books as well as my own creations.
I empathize with my students because I had to learn English myself. Therefore, I know it can be difficult to learn a foreign language and even frustrating at times but also very rewarding. That is why, I make students aware of their progress on a regular basis .
I love teaching and I have had some very good feedback from my students. I am a friendly, patient and approachable person.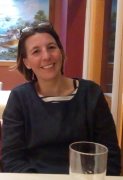 Samantha Buades
Listing type: Tutor


Distance travelled:
Up to 2 miles of HX7

Tutors Online
Availability:
All days day and eve
Crb check:
I have a Crb Check [Help]
This map is centred on (HX7) where this tutor/or organisation are located.
Contact Details for Samantha Buades
---
Send Samantha Buades a private message
Do not use this form to try to recruit tutors to any tutoring agency you may run or for sending communications that can be seen as spam, marketing and product promotion etc.
Optional - leave blank if you do not want tutors to contact you by phone. Numbers only please. No ( ) or -