Vivienne Handley - English Tutor Sutton Coldfield, Erdington, Walmley, Birmingham & Walsall
Subjects
GCSE English
KS1 & KS2 English
11 plus
GCSE English Literature
---
Subjects:
English Key Stages 2 and 3 and GCSE English Language and English Literature
11+ English exam preparation
---
Price and Range:
£30 per hour tuition
---
Personal Information:
I have many years' experience in tutoring English, from key stage 2 to undergraduate level. I specialise in working with students who have special educational needs, such as hearing impairment, dyslexia, autism and dyspraxia. I focus on building confidence and self esteem. I can help students to overcome barriers to learning and to set achievable goals.

I can offer exam preparation for GCSE English Language and English Literature, including resits.

Having worked as a Learning Mentor in a Secondary School for 11 years, I am familiar with the National Curriculum and also have lots of experience working with young people on a one to one basis, helping them to reach their full potential. I am friendly, easy to talk to and a good listener. I am passionate about my subject, and strive to pass on my enthusiasm to my students. I prefer to work from home as I can create a calm, relaxing environment which encourages learning.

All my lessons are individually tailored to suit each student, and focus on whichever areas they need to improve, for example, reading and comprehension, spelling and grammar, literary analysis, exam preparation or essay writing.

I can work with students to overcome any anxieties they may have about returning to school after the lockdown period, and also revising skills that may have been neglected during their absence from school. I offer catch up sessions during school holidays.

I live very close to several Sutton Coldfield schools, making it easy for students to walk to my home after school and for parents to drop off/pick up. I provide drinks and homemade cake!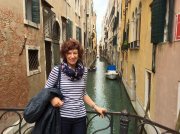 Mrs Vivienne Handley
This map is centred on (B72) where this tutor/or organisation are located.
Contact Details for Mrs Vivienne Handley
---
Send Mrs Vivienne Handley a private message
Do not use this form to try to recruit tutors to any tutoring agency you may run or for sending communications that can be seen as spam, marketing and product promotion etc.
Optional - leave blank if you do not want tutors to contact you by phone. Numbers only please. No ( ) or -