Stour Valley E.S.L. - IELTS & ESL Tutors Canterbury, Ashford, Whitstable, Tonbridge & Hythe
Subjects
All levels IELTS
All levels ESL
---
---
Price and Range:
£10 per hour per person. Groups of four students.
£25 per hour one-to-one tuition.
£360 / £380 per person per week . 15 hours tuition and structured guided tours. Maximum of 5 Students plus self -catering accommodation.
---
Personal Information:
I am a fully qualified English language teacher with over 17 years experience of teaching students of all ages and abilities. Having taught abroad as well as in the UK I believe my success as a teacher is in being able to adapt and listen carefully so I meet the needs of my students. Therefore helping them to reach their full potential.

Many of my students have successfully gone on to Higher Educational Institutions in the UK and abroad. I have prepared military students who have been able to progress to The Royal Military Accademy, Sandhurst.

I have a purpose built classroom which offers students the chance to access up to date information using the internet or one of our reference books. Our stuctured guided tours encourage our students to use the language which they have been taught during the morning lessons.

I believe that offering a friendly, professional service and working with small groups really helps students to improve their language skills. I truly enjoy teaching and meeting people from all over the world.

Canterbury is a small city full of history. There is always lots to see and do. Also, there are wild life parks near by if you love nature and animals.
London is less than an hour by train so we can always take a day trip together and practice everyday language skills.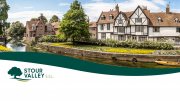 Stour Valley E.S.L.
Listing type: Learning Centre

Availability:
Mon-Fri only day and eve
This map is centred on (CT1) where this tutor/or organisation are located.
Contact Details for Stour Valley E.S.L.
---
Send Stour Valley E.S.L. a private message
Do not use this form to try to recruit tutors to any tutoring agency you may run or for sending communications that can be seen as spam, marketing and product promotion etc.
Optional - leave blank if you do not want tutors to contact you by phone. Numbers only please. No ( ) or -