Subjects
KS1 & KS2 Maths
All levels English
KS1 & KS2 11 plus
GCSE Biology
Secondary Physics
Secondary 13 plus
A Level Human Biology
Up to Degree level Sports Science
Adult Education EFL
Up to Degree level TEFL
---
Subjects:
IGCSE/GCSE Biology, A level Biology, GCSE English, TEFL, Creative writing, Business English, KS1/KS2/KS3, 11+, 13+, Maths (KS1/KS2). Preparation for Examinations, assessments, coaching and mentoring.

Pilates/Yoga/Mindfulness/health & wellbeing
---
Price and Range:
GCSE Biology, English £28 per hour
A level Biology £36 per hour
TEFL English £28 per hour
11+ English/Maths/VR/Non VR £28 per hour, 13+ £30 per hour
Pilates/Yoga/Mindfulness - £30 per hour
Coaching & Mentoring - £30 per hour
---
Personal Information:
Hi, I'm Sarah. I have been involved in teaching and education for over 20 years. My experience started in teaching and training, where I delivered training courses and coaching for students to become health and exercise practitioners. My role has led me to work with students from all ages, abilities and backgrounds to include SEN and ESOL. I have also taught biology on BSc Osteopathy Degree at University.

I provide both face-to-face and on-line tuition in Science, English, Maths and health and well-being. I also work for many schools and colleges providing science and English tuition. In addition to academic teaching, I run physical therapy clinics in Pilates, Yoga, physical therapy. It is important to have industry experience as well as academic knowledge as this relates to biology curriculum subjects, such as 'health and disease', with over 20 years experience working in a clinical setting with other practitioners, I have gained both theoretical and practical knowledge to share with students. I have worked on various international projects with schools and colleges in Spain and it was fabulous to see students gain work experience skills in health and exercise science sectors.

I believe in a balanced study - lifestyle and encourage students to adopt the same philosophy, taking time out of study for exercise, hobbies and relaxation to combat stress.

In addition to science, I teach English and thoroughly enjoy this subject, especially when students improve their grades and master English skills, both with ESOL learners and native English speakers. This has proved particularly rewarding when teaching English and Biology to international students.

I teach using a variety of different resources and tailor sessions according to students learning styles, and for younger students most of the lessons are fun and interactive. I particularly enjoy working with on-line learners from different countries and learning about their academic and methods of study.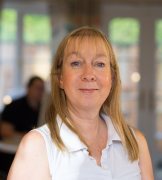 Sarah Grocutt
Listing type: Tutor


Distance travelled:
Up to 5 miles of DY12

Tutors Online
Availability:
All days day and eve
Crb check:
I have a Crb Check [Help]