Sam Chetty - Science, Biology, Chemistry, Maths & Physics Tutor Southend On Sea, Basildon & Dartford
Subjects
Up to A Level Maths
GCSE Biology
GCSE Chemistry
Up to A Level Physics
KS3 Science
GCSE Science
Areas Covered
---
Subjects:
Key Stage 3 : Science, Maths

GCSE: Maths, Science, Physics, Chemistry, Biology

AS/A2 level: Maths, Physics, Chemistry
---
Price and Range:
Key Stage 3 £30

GCSE £35

AS/A level £40
---
Personal Information:
I am a fully qualified and established teacher of Maths and Science and am currently teaching in a Sixth Form College. I have a BSc (Hons.) in Physics, a Postgraduate Diploma in Business Information Technology and QTS.

I confidently teach Maths ,Physics and Chemistry up to A level and all exam boards. I also teach Maths and all 3 Sciences at KS3, GCSE and IGCSE. As lead teacher of Physics at A level. I write schemes of work, prepare resources, plan lessons and practical work and help other teachers to deliver lessons. I also help teachers in setting experiments for the practical experiments.

I monitor the progress of individual students very closely and make sure each student achieve his/ her potential.

I have started private tutoring a few years ago. My students enjoy my lessons as I take real life situations and examples to illustrate and explain seemingly complex topics and concepts. My students achieve amazing results and continue tuition from GCSE to A level where they excel and get their seat on the course and university of their choice. References from previous students and parents are available on demand.

I am married and have 2 children and spend a lot of time with the family and help the children in their academic and cultural development.

I am very hooked on contemporary issues that affect our society and I have started writing. My first book is titled The Tiger Wild Or Caged. The book is available as kindle edition at Amazon and as print on demand hard copies at pothi, a printer/publisher in India. The book treats poaching in depth and suggests some measures and actions to end it. More details are available at the title website. The book has started to get excellent feedbacks and I am very pleased that it is serving its purpose. I am working on my second book which deals with another current issue affecting our society.

I am very hardworking and perseverant and always set high standards for myself and others.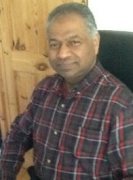 Mr Sam Chetty
Listing type: Tutor


Distance travelled:
Up to 20 miles of SS7
Availability:
Mon-Fri Eve and Weekends only
Crb check:
I have a Crb Check [Help]
This map is centred on (SS7) where this tutor/or organisation are located.
Contact Details for Mr Sam Chetty
---
Send Mr Sam Chetty a private message
Do not use this form to try to recruit tutors to any tutoring agency you may run or for sending communications that can be seen as spam, marketing and product promotion etc.
Optional - leave blank if you do not want tutors to contact you by phone. Numbers only please. No ( ) or -