Michelle Hemmingway - R.E., History, Maths, 11+ & English Tutor Dudley, Halesowen, Oldbury, Sandwell & Rowley Regis
Subjects
KS1 & KS2 Maths
KS3 Maths
KS3 English
KS1 & KS2 English
11 plus
Up to GCSE History
Up to A Level Religious Education R.E.
---
Subjects:
11+ Specialist.

KS1

KS2

GCSE RE History Math and English

A Level RE

Excellent track record with proven results.
---
Price and Range:
£25/hour for one to one sessions.
£15/hour for group sessions (no more than 3 students).
---
Personal Information:
My name is Michelle and I am a mum of four. Education is a passion of mine, as it can unlock so many doors, and I also enjoy reading, baking and embroidery. I love to spend time with my family and have lots of fun with them.

Previously, I worked for 7 years as a teacher of RE and humanities at a Worcestershire school. During my time teaching, my students made good progress and achieved excellent exam results so I know what it takes to succeed.

As a parent, I know how important it is to do the best for your children and help them achieve their potential. It is about more than just grades and in my planning I consider the whole child.

I firmly believe that one size does not fit all and so offer classes that are tailor made to the student. They are engaging, varied and challenging. I have high expectations but deliver my lessons in a fun and friendly way.

I love being part of a child's learning journey and seeing their sense of achievement when they grasp a new concept. I want all children to be the best that they can be and can deliver this for you and your child.

I am an 11 plus specialist and am very proud that to date all my students have gained entry into the first choice of secondary school.

I am fully insured and DBS checked.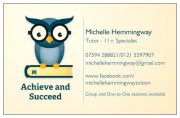 Michelle Hemmingway
This map is centred on (B65) where this tutor/or organisation are located.
Contact Details for Michelle Hemmingway
---
Send Michelle Hemmingway a private message
Do not use this form to try to recruit tutors to any tutoring agency you may run or for sending communications that can be seen as spam, marketing and product promotion etc.
Optional - leave blank if you do not want tutors to contact you by phone. Numbers only please. No ( ) or -