Barbara Thomas - French, EFL & German Tutor Watford, St Albans, Hatfield, Harpenden & Welwyn
Subjects
KS3 French
A Level French
Up to GCSE French
All levels EFL
Up to GCSE German
---
Subjects:
French - A and AS level
French - GCSE and IGCSE
French - Primary and KS3
German - Beginners
English as a Foreign Language - all levels
---
Price and Range:
For one-to-one tuition, I charge the following per hour:
French - A and AS level £38
French - GCSE and IGCSE £35
French - KS3 £32
Primary French - £30
Beginners German - £32
English as a Foreign Language - Basic £32
Older learners - £35
IELTS - £38
There will be a 10% reduction for online tuition.
---
Personal Information:
Throughout my teaching career, I have taught students of all ages and abilities in comprehensive schools. I am therefore a highly experienced classroom teacher with expertise in running Modern Foreign Languages departments over several years and in keeping abreast of changes in the curricula.
I try to tailor my lessons to the needs of the individual learner, whatever the level, and use a variety of methods and resources to complement my teaching. The four skills of Reading, Writing, Speaking and Listening are fully addressed although I find that students tend to lack confidence in Speaking and Writing; this is where individual help and practice with a tutor can be extremely beneficial. Recently, I have tutored via Skype and Zoom and have learned to adapt materials and teaching methods to suit online tuition.
I am also a qualified teacher of English as a Foreign Language and have tutored learners up to IELTS, which is the most advanced examination for English learners.
The pandemic has meant that students have had to try to maintain their studies in challenging times. I am happy to offer revision sessions and general support to any student to help boost self-confidence and make progress.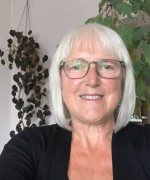 Barbara Thomas
Listing type: Tutor

Availability:
Mon-Fri only day and eve
Crb check:
I have a Crb Check [Help]
This map is centred on (AL1) where this tutor/or organisation are located.
Contact Details for Barbara Thomas
---
Send Barbara Thomas a private message
Do not use this form to try to recruit tutors to any tutoring agency you may run or for sending communications that can be seen as spam, marketing and product promotion etc.
Optional - leave blank if you do not want tutors to contact you by phone. Numbers only please. No ( ) or -