A Alura - Psychology, French, BSL, Dyslexia, English, Maths & 11+ Tutor Camden, Islington, Maida Vale, Regents Park & Kings Cross
Subjects
KS1 & KS2 Maths
KS1 & KS2 English
KS1 & KS2 11 plus
Up to A Level Psychology
Up to A Level French
KS1 & KS2 French
KS1 & KS2 British Sign Language BSL
KS1 & KS2 Dyslexia
---
Subjects:
All lessons require a certain amount of preparation. Also, the time and cost of travel is factored in to the costing of lessons. I am self-employed. Being a private tutor is my sole employment, and I take it seriously.
---
Price and Range:
Primary and KS3 students = £20 ph for 2hrs min per session or £40 ph


GCSE = £30 ph for 2hrs min per session or £50ph

A'level/professionals = £40 ph for 2hrs min per session or £60ph

Adult casual learner = £40 ph for 2hrs min per session
---
Personal Information:
My experience spans over 30 years. My hobbies used to include so many academic and non-academic courses:

Psychology BSc Hons - East London University
French BA - modules - University of London
Acupuncture BSc - modules - University of Toulouse
Technology and Education MSc - modules - Keele University
Technology and Commerce MSc - modules - Open University

Teaching English MSc - modules - Aston University
Post Graduate Certificate in Education - Institute of Education - University of London
Online Teaching English as second or foreign language Certificate
Trampolining Teacher - Sports council
French Films Certificate - Birbeck College

Levels 1, 2 and 3 in British Sign Language (Interpreter/Teacher of the Deaf)

I worked as a lecturer for five years before being invited to take a teaching/management course over two years part-time. This led to me to accepting a post as a joint co-ordinator SENCO (special education) of a small private college for students who struggled in large main-stream colleges.

Whether your child is struggling or excelling, I will be able to help them achieve goals. If the goals set for them seem unobtainable within the time scale given then I will give my honest opinion.

Please contact me via this site in the first instance. I should get back to you the same day or alternatively WhatsApp me. As a tutor, it is rare for me to answer calls. My phone is always on silent when I am teaching.

Thank-you for reading my advert.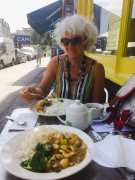 annie alura
This map is centred on (NW1) where this tutor/or organisation are located.
Contact Details for annie alura
---
Send annie alura a private message
Do not use this form to try to recruit tutors to any tutoring agency you may run or for sending communications that can be seen as spam, marketing and product promotion etc.
Optional - leave blank if you do not want tutors to contact you by phone. Numbers only please. No ( ) or -