Anastassia Belynskaia - Russian Tutor Bradford, Leeds, Shipley, Bingley & Ilkley
Subjects
KS3 Russian
Adult Education Russian
KS1 & KS2 Russian
A Level Russian
Pre-School Russian
Secondary Russian
Primary Russian
Post graduate Russian
GCSE Russian
All levels Russian
---
Subjects:
I teach Russian as a native or foreign language at all levels and have experience of teaching face-to-face and online both children and adults, as well as in group and class settings.
---
Price and Range:
I charge £30 per 60 min lesson with a 50% discount for the first one.
---
Personal Information:
I live and tutor near a picturesque village of Saltaire and I am also a part-time Project Officer at the University. I have over 25 years of tutoring experience and I used to teach English as a Foreign Language back in Russia. I come from the very western part of the Russian Federation - Kaliningrad city on the Baltic coast, where I spent 5 years at the University studying Languages and Linguistics. In 1997 I completed a Masters course in Linguistics and ELT at The University of York and the very next year I graduated from Bradford with a PG Diploma in Interpreting and Translation for International Business.

I also obtained a Qualified Teacher Status in 2003 upon completing a PGCE course and having worked at two local private schools. I have a solid experience of teaching in adult and community education sectors and enjoy group lessons tremendously!

My teaching of the language is closely entwined with the cultural information and realia objects. I like to think of myself as a self-appointed ambassador :-) of Russia, its people and their cultural heritage.

My teaching methods are built around the individual needs of each person, be it a visual or an auditory learner or whether you like to do your own research and share with me your findings. One thing for sure is that I quickly dispel a myth about the complexity of the Russian Alphabet. My learners can read just after 2 lessons!

Get in touch and see if I can help you open the door to a new life for you! :-)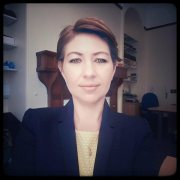 Anastassia B
Listing type: Tutor

Availability:
All days day and eve
Crb check:
I have a Crb Check [Help]
This map is centred on (BD18) where this tutor/or organisation are located.
Contact Details for Anastassia B
---
Send Anastassia B a private message
Do not use this form to try to recruit tutors to any tutoring agency you may run or for sending communications that can be seen as spam, marketing and product promotion etc.
Optional - leave blank if you do not want tutors to contact you by phone. Numbers only please. No ( ) or -